About Belgrade
Belgrade (Beograd), the capital of Serbia is situated in South-Eastern Europe, on the Balkan Peninsula, at the confluence of the Sava and Danube rivers. It has a continental climate, and due to its remarkably good geographical position it is appropriately called "the gate" of the Balkans.
Belgrade is also the capital of Serbian culture, education, science and economy. As a result of its tumultuous history, Belgrade has been a home to many nationalities for centuries. In the age of the Roman Empire it was called Singidunum and many years later, the name was changed into Belgrade, The White City. This name originates from the beautiful white stones from which Belgrade was made of.
When you find yourself in Belgrade, you will definitely be impressed by its soul and its history, of which the Serbs are very proud. There is no place in the world with such a natural combination of oriental passion and European finesse.

For more information about Belgrade and Serbia please visit:
www.tob.co.rs/en/
www.serbia.travel
Map of Belgrade: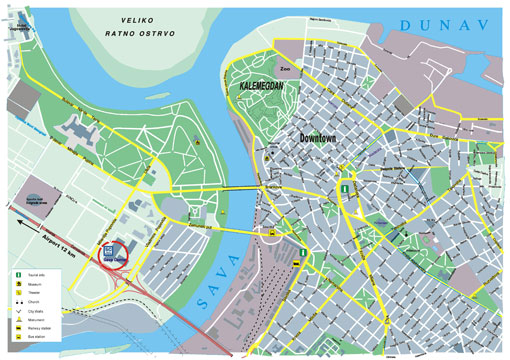 http://www.planplus.rs
(Click to enlarge)