Social program
| | |
| --- | --- |
| 18. February 2012. | Serbian Evening - Gala Dinner |
| 19. February 2012. | Belgrade sightseeing |
| 20. February 2012. | Technical tour |
Serbian Evening - Gala Dinner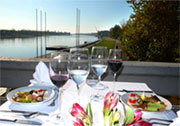 Date: Saturday, 18. February2012.
Time: 19.00h - 23.00 h
Price: 30€
For all Symposium participants Gala Dinner, with traditional Serbian music, will be organised in restaurant "Jezero" (The Lake). The restaurant is located on the left bank of the Savalake in the beautiful nature of Ada Ciganlija. Ada Ciganlija is a river island that has artificially been turned into a peninsula. It is popular recreational zone, most notable for its beaches and sports facilities. People also like to call it Belgrade's sea.
Belgrade Sightseeing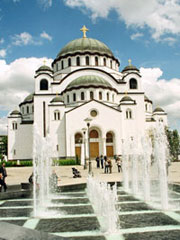 Date: Sunday, 19. February 2012.
Time: 10.00h - 14.00 h
Price: 25€
Discover Belgrade by walking the streets and enjoying in interesting story about Belgrade's history and architecture, told by our tour guide. Tour:
We will begin our tour by walking through theKalemeganPark, the largest green belt ofBelgradeand sightseeing Kalemegdan fortress, offering a beautiful view on the confluence of two rivers theSavaandDanuberiver (45 min). After this pleasant walk, we will visit the Cathedral, Palace of Princess Ljubica and visit one of the oldest buildings of Belgrade, Restaurant "?" (Question mark), which still keeps the interior typical for the Balkans. The next tour will take us towards municipality Dedinje and Senjak, the most elite and most peaceful part of Belgrade, where we are going to visit the palace complex of the Obrenovic and Karadjordjevic dynasty, Serbian kings and residencies from the nineteenth and early twentieth century. In a return we will visit the oldest city boulevard - the Grand Boulevard of Prince Miloš. Next in a line to see will be Tito's park and tour around the residence, "House of Flowers", where Tito, president of Yugoslavia, was buried. You will have the possibility to see a prestigious part of the center of Belgrade - municipality Vračar, the Park of Prince Karadjordje, with its numerous monuments, and of course the magnificent building of the National Library. We will finish our tour by visiting the largest Orthodox Church in the Balkans, the Temple of Saint Sava.
Technical tour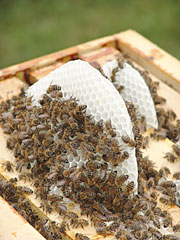 Date: Monday, 20. February 2012
Time: 8.00h - 19.00h
Price: 50€
Visit to Zoran Kovačević, professional beekeeper, Brestovik near Grocka (visit to the sampling apiary and premises for extracting and packing of honey and other bee products, sharing experiences in beekeeping technology and bee products placement)
Visit to Prof. Jovan Kulinčević's Queen Selection Center in the village Vranić (presentation of the thirty-year-old queen selection by the world's most famous Serbian scientist, who worked at the Ohio University, USA, for 16 years)
Visit to the professional beekeeper Goran Tomic in the village Kosjerić (Introduction to the modern technology of beekeeping with eight low frame hive, the technology of obtaining comb honey and extracted honey with the least risks)